JAGUAR I-PACE


Every Jaguar vehicle feels like no other car on the road. Moving to all-electric power doesn't change this. Built from the ground up, the New Jaguar I‑PACE is a pure Battery Electric Vehicle. Thrilling to look at and drive.
SEE WHAT OTHERS ARE SAYING
"It feels nimble and planted and it jets out of corners with uncanny ease."
Motor Trend, June 2018
"Given how many heads turn to watch our red 2019 Jaguar I-PACE cruise by town centers, the design successfully stands out."
Edmunds, June 2018
"The I-PACE's instantaneous power means it's quicker in the real world." 
Edmunds, June 2018
"I-PACE marks Jag's emergence as a modern engineering powerhouse." 
Autoweek, June 2018

BOLD EXTERIOR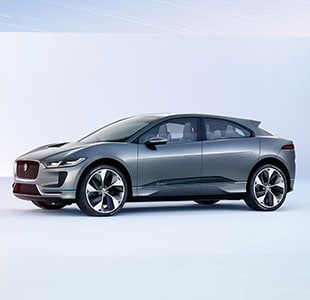 With dramatic proportions enabled by electric technology, the I‑PACE evolves Jaguar distinctive design DNA into a new era.
PERFORMANCE AND TECHNOLOGY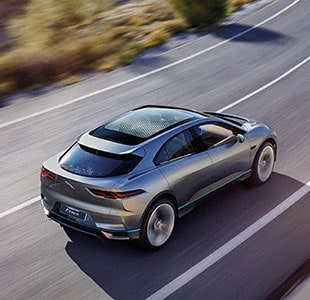 The I-PACE has been conceived for pure driver enjoyment, demonstrated as much by its thrilling acceleration as by its intuitive technology.
SPACIOUS INTERIOR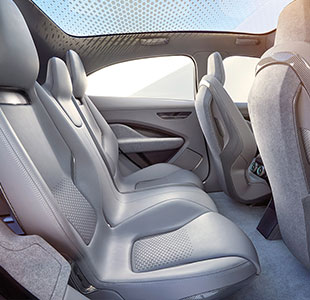 Without an internal combustion engine to accommodate, the interior is exceptionally spacious with five full seats and luxurious rear passenger legroom. Everyone experiences the unmistakable flair for Jaguar design and impeccable craftsmanship.

I-PACE: THE DETAILS
RANGE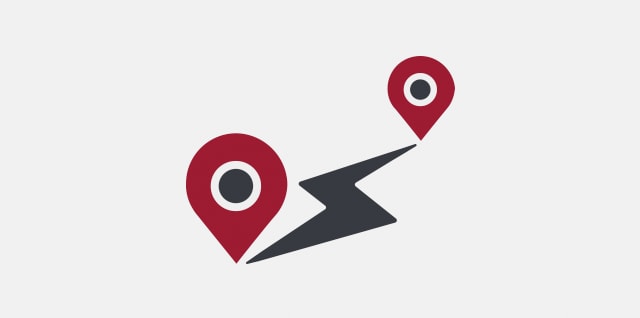 One full charge provides a range of up to 234 miles.**
**Figures shown are Manufacturer's driving range estimates. Actual mileage may vary. EPA estimates not available at time of publication. See Jaguar Retailer for updated EPA estimates.
POWER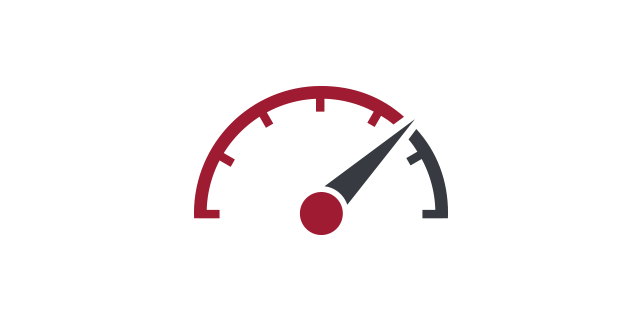 The I‑PACE is propelled by two permanent magnet synchronous electric motors. Similar to the technology found in the I‑TYPE Formula E racing car, these motors generate 394 HP and 512 Lb-Ft of torque.
PERFORMANCE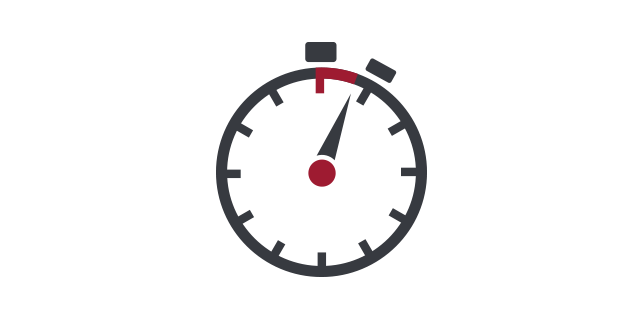 Instant torque and All Wheel Drive traction gives the I‑PACE the acceleration of a sports car. It reaches 60 mph in 4.5 seconds.*
DIMENSIONS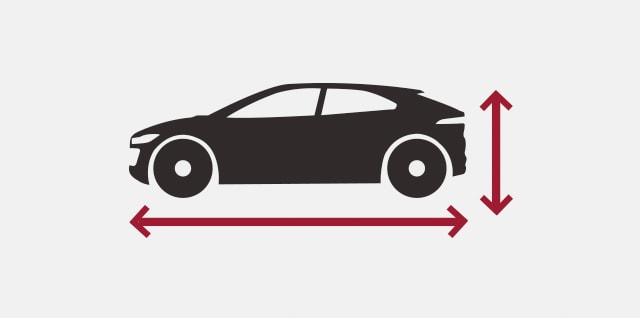 The I‑PACE has a compact footprint from the outside but exceptional space within. There are five full seats, innovative storage, a substantial rear cargo space of over 25.3 cubic feet and 0.95 cubic feet in the front storage compartment.
BATTERY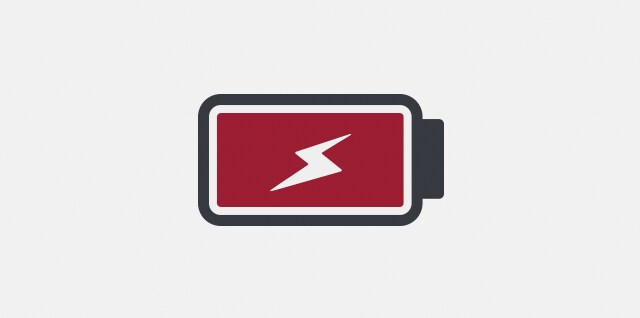 The 90 kWh battery of the I‑PACE is made up of high-energy density, lithium-ion pouch cells. Its design and state-of-the-art thermal management system support longevity and periods of sustained maximum power.
CHARGING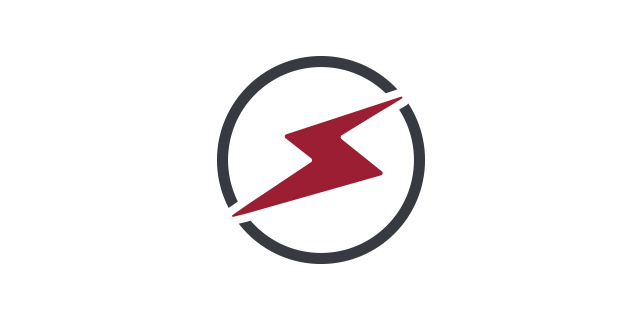 With a 50 kW DC rapid charger - the kind found at most public charging stations - the I‑PACE can achieve a 0-80% charge in 85 minutes.*
*Note: Actual charge times may vary according to environmental conditions and available charging installation.

 DESIGN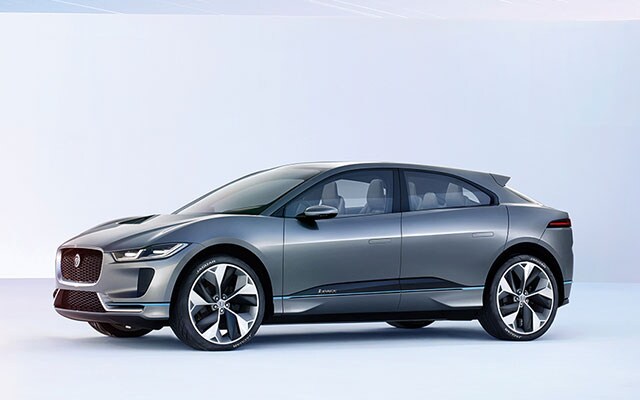 DRAMATIC STYLING
"The challenge was to design and build an electric vehicle that's distinctively and unmistakably a Jaguar - a vehicle that will demonstrate that an electric vehicle can be a driver's car and excite the senses."
- Ian Callum, Director of Design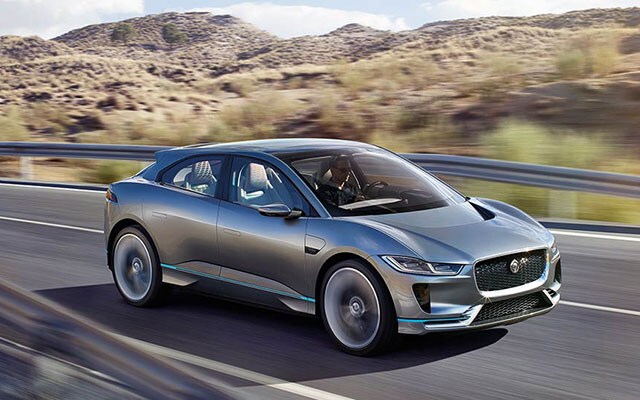 AERODYNAMICALLY STUNNING
The dramatic, distinctive look of the I-PACE - with aerodynamic hood scoop, flush door handles and bold air ducts - maximizes the electric vehicle's range and helps it slice efficiently through the air.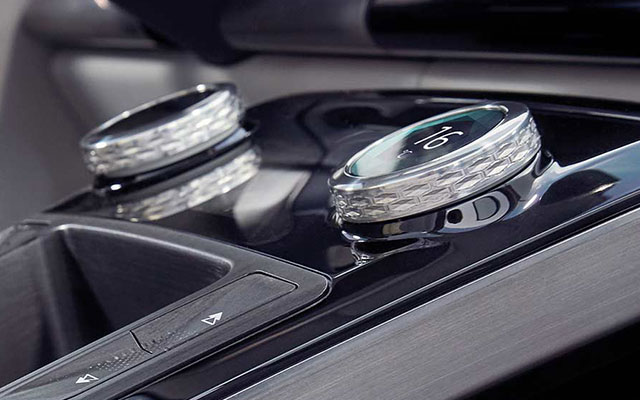 STRIKING AND SOPHISTICATED
With a 5-seater cabin that is both luxurious and sporty - thanks to exquisite materials and advanced technology - the I-PACE delivers a sense of occasion from the moment you open the door. Its floating center console and panoramic roof combine to create a light and airy interior that highlights the exceptional interior package.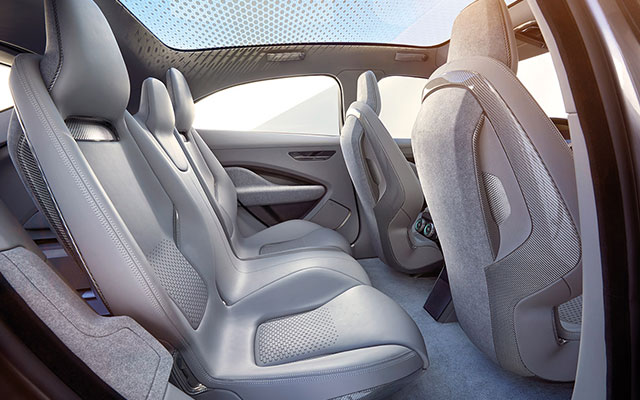 A SPACIOUS PRACTICAL INTERIOR
With electric vehicles there's no need to make space for a combustion engine or transmission tunnel. The spacious interior and longer wheelbase of the I-PACE offers  luxurious legroom for 5 adults and ample, innovative storage solutions for luggage and other essentials.

PERFORMANCE AND TECHNOLOGY
The I-PACE combines the Jaguar performance and legendary refinement you'd expect to deliver a truly engaged, exhilarating drive.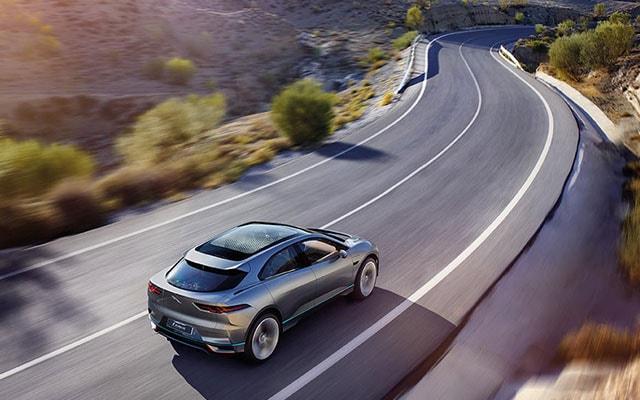 A THRILLING DRIVE
Instant torque delivers exhilarating straight-line acceleration. A true Jaguar vehicle, the I‑PACE accesses its power in a range of driving environments too. With all‑wheel‑drive stability and sports car agility, the I‑PACE inspires confident driving on various road surfaces and weather conditions.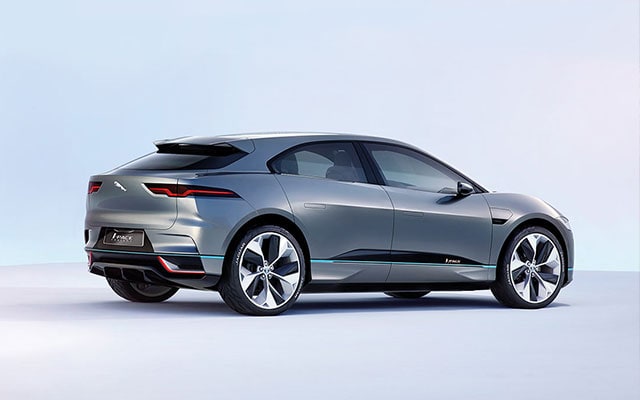 ADVANCED TECHNOLOGY
Technology is at the heart of the I‑PACE, yet it remains discreet and completely focused on enhancing driver and passenger enjoyment.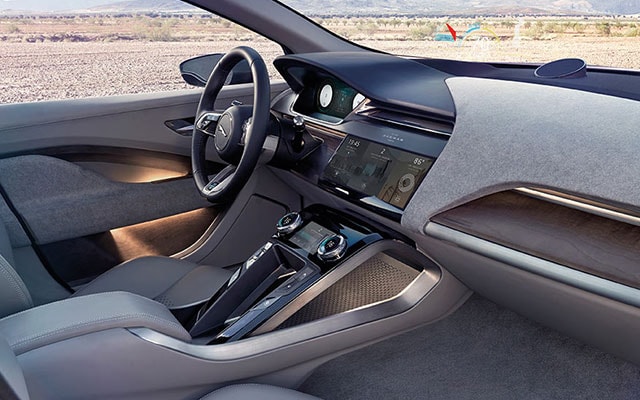 INTUITIVELY CONNECTED
The I‑PACE has sophisticated technology that is designed to never be intrusive. Every control and interaction - and each piece of information - falls logically and intuitively to hand, keeping your attention on the road.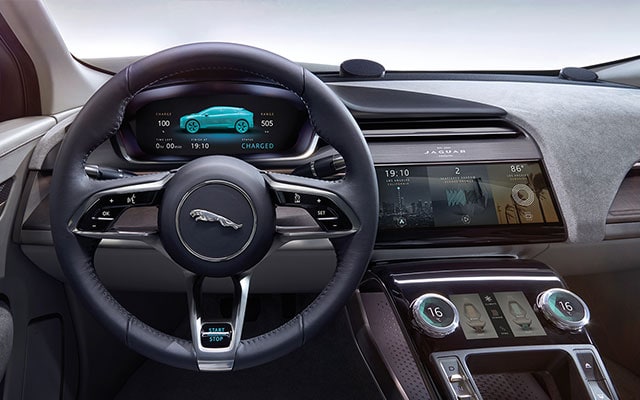 BEAUTIFUL DISPLAYS
The I‑PACE delivers effortless engagement through four screens conveniently positioned for the driver. The center console contains two infotainment touchscreens, while vehicle information sits separately behind the steering wheel. A full‑color Head‑Up Display discreetly displays key information on the vehicle's windshield.
All illustrations, photographs and specifications shown here are based on the Jaguar I-PACE vehicle. Final U.S. specifications, design, equipment, and accessories have not been determined. Therefore, U.S. production vehicles will differ from the one shown. 
All pricing and figures for acceleration, power, speed, range and charging are Manufacturer's estimates based on best information available at time of publication. Jaguar I-PACE production vehicles will be tested and certified prior to release, with official figures available prior to any customer order.
While we strive to provide accurate information, certain changes in standard equipment, options, prices, availability or delays may occur that may not be reflected. Options shown or described are available at extra cost and may be offered only in combination with other options or subject to additional ordering requirements or limitations. Some vehicles shown with optional equipment. 
1. Price shown is Base Manufacturer's Suggested Retail Price. Excludes $995 destination/handling charge, tax, title, license, and retailer fees, all due at signing, and optional equipment. Total Manufacturer's Suggested Retail Price includes $995 destination/handling charge and may include optional equipment but excludes tax, title, license, and retailer fees, all due at signing. Retailer price, terms and vehicle availability may vary. See your local authorized Jaguar Retailer for details. 
2. All figures are EPA estimates. Actual mileage may vary. 
3. Always obey local speed limits. 
4. These features are not a substitute for driving safely with due care and attention, and will not function under all circumstances, speeds, weather and road conditions. The driver should not assume that these features will correct errors of judgment in driving. Please consult your vehicle's owner's manual or your local authorized Jaguar Retailer for more details. 
5. Driving while distracted can result in loss of vehicle control. Do not operate, adjust or view the navigation or multimedia systems under conditions that will affect your safety or the safety of others. Only use mobile phones, and other devices, even with voice commands, when it is safe to do so. 
6. Please remember that the safety belts in a vehicle constitute the primary protection system for driver and passengers in collisions. Airbags are not designed to deploy in all collisions. The airbag Supplemental Restraint System (SRS) is a supplement to the safety belts and is designed to work as a system with the safety belts. Although airbags provide additional protection, airbags without safety belts do not provide optimal protection in a crash. Always wear your safety belts. Children younger than 13 years old should always be properly restrained in a back seat, away from airbags. Never place an infant seat in the front seat. 
7. Do not use Jaguar InControl® features under conditions that will affect your safety or safety of others. Driving while distracted can result in loss of vehicle control. Jaguar InControl has a number of purchasing options that are available. As we systematically roll out the Jaguar InControl suite of products, specific features, options and its availability remain market dependent. Please see your local authorized Jaguar Retailer for more details. The Jaguar InControl Apps™ and InControl Remote™ smartphone apps will work with Android™ devices from version 4.1 and Apple® devices from iOS V7.0. 
8. The InControl Protect™ Optimized Roadside Assistance call service requires a subscription, which is complimentary during the first 5 years/60,000 miles. 
9. The Wi-Fi hotspot is intended for passenger use only. InControl features may require an additional subscription with separate terms and conditions.